RUINS Survival Windows Requirements
RUINS Survival system requirements for Windows
Minimum Requirements
Recommended Requirements

OS

OS

Windows 7 / 10

OS

Windows 7 / 10

Processor

Processor

Processor

Memory

Memory

4 GB

Memory

8 GB

Graphics

Graphics

Graphics

Network

Network

Broadband Internet connection

Network

Broadband Internet connection

Storage

Storage

14 GB

Storage

14 GB
Want to play all demanding PC games on any device you choose?
It's easy with Vortex, the cloud gaming solution! Play your favorite games online on all your devices from desktop to phone!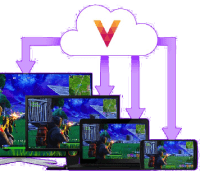 RUINS Survival minimum requirements for Windows assume having at least Windows 7 / 10 operating system. Your processor should be Intel Core i3 or a more powerful one. The minimum RAM requirement is 4 GB. As for a graphics card, it should be NVIDIA GeForce GTX 560. You also have to have 14 GB free disk space to install the game.
If you go for recommended requirements for RUINS Survival for Windows, your operating system should be Windows 7 / 10. Recommended CPU would be Intel Core i5 CPU or equivalent. For RAM, it is recommended to have 8 GB or more. And video card — NVIDIA GeForce GTX 770.